To make an appointment with the Clerk's Office, please visit the homepage and click the "Schedule an Appointment" button. Be sure that you schedule your appointment for the correct department. Appointments scheduled in the incorrect department are subject to cancellation. In accordance with the 2nd Amended Administrative Order 22.04, walk-in services are currently unavailable. An appointment is required. Customers are limited to one 30-minute appointment per day.

Filings are accepted in the drop box located at the main entrance of the courthouse, via eDelivery, or by US Mail.

Please see 2nd Amended Administrative Order 22.04 for additional information regarding court operations during the phased re-opening.
* * * PUBLIC NOTICE * * *
Remote Appearances
Please see "Remote Appearances" on the homepage which identifies the proceedings where remote appearance is available. Participants intending to appear remotely must comply with the requirements of California Rules of Court, rule 3.672.
Check back often for updates.
The Clerk's Office hours at the Juvenile Courthouse are 8:00 a.m. - 12:00 p.m. and 1:30 p.m. - 3:00 p.m. Monday through Friday.
Appointments are required, except when making payments on traffic fines and fees. Please visit the court's homepage and click on "Schedule an Appointment" button to schedule an appointment.
Telephone hours are 8:00 a.m. - 11:30 a.m. and 1:30 p.m. - 4:00 p.m.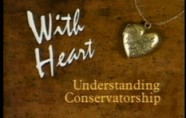 The Ventura County Superior Court requires proposed conservators to view the video, "With Heart: Understanding Conservatorship" [Español] (Local Rule 10.02 A(3)). The video may be viewed on the Court's YouTube page. After viewing the video, proposed conservators shall complete and file Local Form VN 182 with the probate clerk's office.

Proposed conservators are also required to read the "Handbook for Conservators". [Español]

The forms to initiate a conservatorship case are available in our Conservatorship Form Packet.
Conservatorship
A conservatorship is a legal arrangement in which an adult oversees the personal care or financial matters of another adult considered incapable of managing alone. The incapacitated person is the "conservatee" and the person who takes over care is called the "conservator". A conservatorship may be created when an adult person is unable to properly provide for his or her personal needs for physical health, food, clothing or shelter. This is called a conservatorship of the person.
A conservatorship may also be created when an adult person is unable to manage his or her own financial resources or resist fraud or undue influence. This is called a conservatorship of the estate. Sometimes it is necessary to establish a conservatorship of both the person and the estate.
An adult person may voluntarily request the appointment of a conservator. A conservatorship may also be created for a minor who is married or whose marriage has been dissolved, and who otherwise meets the criteria for an adult conservatorship, or for a member of the uniformed services or other agency of the United States, who is officially determined to be missing.
Conservatorships are heard in the probate department of the superior court. Many of the forms used for filing a conservatorship petition are the same as those used for filing for a guardianship of a minor.
Conservatorship of the person
A conservator owes a fiduciary duty to the conservatee, which is the highest duty of care one can owe to another. The "Handbook for Conservators" and the video "With Heart--Understanding Conservatorships" provide necessary information on the duties of a conservator. The Conservatorship Video is available at the Ventura Court's Self-Help Legal Access Center.
Conservatorship of the estate
If there are assets which need protection, the conservator should retain private legal counsel to advise him or her about obligations regarding the estate. The court requires accountings and reportings on a regular basis. Ignorance of the requirements is not an excuse for failure to comply. For this reason, it is always recommended that conservators of an estate be represented by legal counsel. The attorneys fees must be approved by the court, and generally may be paid from estate assets.
LPS Conservatorship
A Lanterman-Petris Short or LPS Conservatorship may be established to arrange placement and mental health treatment for persons who are unable to provide for their food, clothing or shelter as a result of a mental disorder, chronic alcoholism or substance abuse.
For more information on Conservatorship, visit the California Courts Self-Help Center.

Free Self-Help Webinars are available for self-represented litigants to get assistance with starting a Conservatorship case. To register for a webinar, go to www.calendly.com/vcselfhelpcenter.
More Information and Resources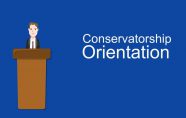 Online Conservatorship Orientation
This orientation is available in English (12:29), Spanish (15:38), and Vietnamese (15:38).
(created by the Orange County Superior Court)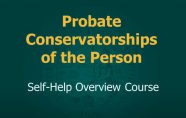 Probate Conservatorships Self Help Overview Course
Videos available for Conservatorship of the Person (1:04:43) and
Conservatorship of the Estate (35:20).
Subtítulos en español disponible
(created by San Bernardino County Superior Court)